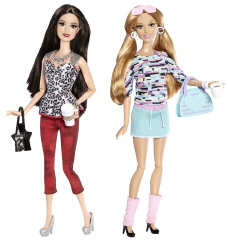 Barbie® Life in the Dreamhouse Raquelle® and Summer® 2-Pack
Product#: Y7449
Released: 2013
Discontinued:
Ages: 3 years and up
Barbie® Life in the Dreamhouse Raquelle® and Summer® 2-Pack
Barbie® doll's life in the Dreamhouse® mansion is pretty FAB - always fashionable, frequently fun and generally "amazing!" Friends are always stopping by to say hello and join in the fun, and they always look their unique best. These "BBFFs" - Barbie® best friends forever - are ready for the next gabfest, shopping spree, surprise party or any event in between with iconic fashions recognizable from the related webisodes. Posh Raquelle® and beach-loving Summer® dolls are taking a coffee break with a white mug and to-go cup. Raquelle® is fashionably fierce in faded red capri skinny pants and a black and white animal print top with silver straps. Silver pumps and a silver necklace are elegant touches, while a star-shaped black purse is a rockin' style statement. Summer® doll looks ocean breezy in a short, sporty, light blue skirt and multi-colored graphic print top. Simple black pumps, pink leg warmers, white circle earrings, a white wristband, pink shades and an easy blue bag say casual but chic. It's all colorful fun for an "amazing" life! The pack comes with two kid-sized friendship bracelets so girls can celebrate their own friendships too! Includes two dolls and themed accessories. Dolls cannot stand alone.
PurchaseParts
ReplacementPartsNotAvailable