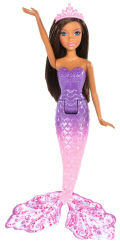 Barbie® FT Small Doll Mermaid Doll
Product#: X9448
Released: 2013
Discontinued:
Ages: 3 years and up.
Barbie® FT Small Doll Mermaid Doll:
Discover the Barbie® Fairytale Magic with this adorable 8-inch mermaid doll! Her colorful bodice and tiara add fun and whimsy while her elegant tail features beautiful ombre colors and a fun gem-inspired fabric fin. Girls will love making a splash with this princess of the sea. Includes tiara. Doll cannot stand alone. Ages 3 and older. X9455 Assortment.
PurchaseParts
ReplacementPartsNotAvailable