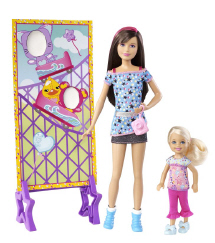 Barbie® Sister 2 Pack
Product#: X9069
Released: 2013
Discontinued:
Ages: 3 years and up.
The amusement park offers so many ways to play!
Armed with a camera, Skipper® and Chelsea® dolls are having a blast capturing all their amusing moments on film. A cutout stand is the perfect place for them to strike a pose and capture a fun moment. But they also look adorable enough to stand in photos on their own.
PurchaseParts
ReplacementPartsNotAvailable