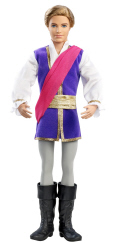 Barbie® Pink Shoes Ken® Doll
Product#: X8811
Released: 2013
Discontinued:
Ages: 3 years and up.
Barbie™ in the Pink Shoes Ken® as Prince Siegfried Doll:
In the new movie Barbie™ in the Pink Shoes, Barbie® stars as Kristyn Farraday™, a beautiful ballerina whose magical pink shoes take her into a fantasy world of ballet. During her adventure, she dances with Prince Siegfried, a strong, handsome partner with an amazing costume of his own. This royal dancer is ready to leap into girls' hearts in a dashing purple tunic with gold detail. He wears a white Renaissance shirt and grey tights underneath and is royally accessorized with a red sash and black boots. Ages 3 and older.
PurchaseParts
ReplacementPartsNotAvailable