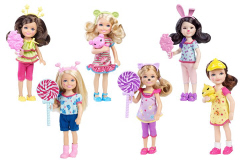 Barbie® Chelsea® Assortment
Product#: X8400
Released: 2013
Discontinued:
Ages: 3 years and up.
Barbie® Chelsea® Doll Assortment (Amusement Park Theme):
Chelsea® doll and her friends are having a blast at the amusement park! They've each gotten their faces painted with different looks-whiskers, stars, hearts or flowers-and picked up fun souvenirs that include headbands and treats, like stuffed animals or candy. Each wears a sweet, casual outfit perfect for a day of amusement at the park. Includes doll and amusement park-themed accessory. Each sold separately, subject to availability. Ages 3 and older.
PurchaseParts
ReplacementPartsNotAvailable