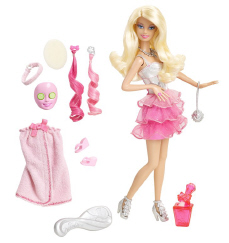 Spa To Fab™ Barbie® Doll
Product#: X7891
Released: 2012
Discontinued:
Ages: 3 years and up.
Spa To Fab™ Barbie® Doll:
Barbie® doll is headed to the spa for a day of pampering where girls can transform her from fashionably fab to fiercely fabulous! Barbie® doll features a head-to-toe transformation with color-change features on her face and nails. Use the pretty pink applicator dipped in cold water to "apply" nail color (warm water returns it to neutral) while Barbie® doll lounges in her cute towel dress. To put on her face, Barbie® doll can undergo a mask, complete with cucumbers. A wet sponge tucked inside causes the color transformation and an instant glam look! Hair extensions add the final glamorous touch! When the primping is done, Barbie® doll can remove her spa robe to reveal a sparkly fashion fit for a night out on the town! Includes doll, towel, brush, applicator, mask and theme piece-count.
PurchaseParts
ReplacementPartsNotAvailable