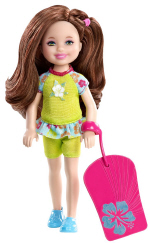 Barbie® Chelsea® Kira® Doll
Product#: X7734
Released: 2012
Discontinued:
Ages: 3 years and up.
Barbie® Chelsea®/Friends Doll Assortment:
Barbie® and her sisters are on a tropical vacation, and Chelsea® has been making friends at the kids club! She and her new pals are participating in all sorts of fun activities, like building sand castles, snorkeling, bodyboarding and playing in the pool. Includes 1 doll and vacation-themed accessory. Ages 3 and older. X3211 Assortment.
PurchaseParts
ReplacementPartsNotAvailable