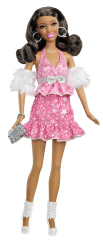 Pinktastic™ Barbie® Doll (Kohl's)
Product#: X6998
Released: 2012
Discontinued:
Ages: 3 years and up.
Barbie® Pink Program Doll 6 (Kohl's):
Think pink! This doll makes a bold statement wearing a beautiful fashion-forward gown in Barbie® doll's signature color. Accessorized with the perfect touches, she will tickle girls pink! Doll cannot stand alone. Exclusively at Kohl's. Ages 3 and older. X6992 Assortment.
PurchaseParts
ReplacementPartsNotAvailable