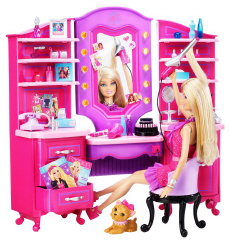 Barbie® Vanity & Doll
Product#: X6725
Released: 2012
Discontinued:
Ages: 3 years and up.
Barbie® Vanity + Doll:
It's time to get all dolled up! This set features Barbie® doll
with long hair in her trendy signature dress and a pink-tastic vanity set complete
with mirror, seat, hair accessories, play perfume bottles and brush. It's glam and style play all in one!
Looking good! Ages 3 and older.
PurchaseParts
ReplacementPartsNotAvailable