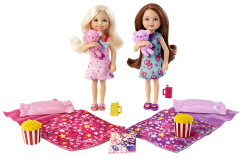 Barbie® Pajama Fun
Product#: X6305
Released: 2012
Discontinued:
Ages: 3 years and up.
Barbie® Doll/Mini Furniture Giftset (Slumber Party):
Chelsea® doll and her friend are having so much fun at their slumber party! They are watching the latest Barbie™ movie while eating popcorn and drinking juice. When it's time for bed, they can curl up in their sleeping bags. Includes 2 dolls. Ages 3 and older.
PurchaseParts
ReplacementPartsNotAvailable