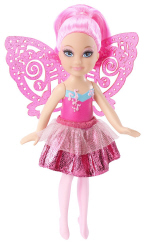 Barbie® Princess and the Popstar Chelsea® Doll
Product#: X4506
Released: 2012
Discontinued:
Ages: 3 years and up.
Barbie™ The Princess & The Popstar Fairy Assortment:
In the all new Barbie™ movie, Barbie™ The Princess & the Popstar, these magical, whimsical and fun fairies are the protectors of the diamond flower. Their fanciful looks include fabulously colored hair, sweet dresses, iridescent touches, colored legs and fun musical note cutouts on their outfits. With their sparkly wings, these fairies are ready to take flight! Dolls cannot stand alone. Ages 3 and older. X4316 Asst.
PurchaseParts
ReplacementPartsNotAvailable