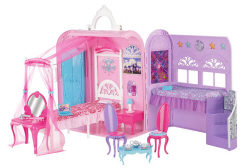 Barbie™ The Princess & The Popstar Princess Playset
Product#: X3706
Released: 2012
Discontinued:
Ages: 3 years and up.
Barbie™ The Princess & The Popstar Princess Playset:
It's the ultimate in friendship and house play with the perfect play set for two! Based on the all new Barbie™ movie, Barbie™ The Princess & the Popstar, this fold-out set has double the fun with beds for both girls, seating for the pair and a tea set for two. A shared wardrobe (with hanger) and vanity (with accessories) are perfect for exchanging clothes and beauty tips. And for added charm, the Popstar bed magically transforms into a bathtub! When all the fun is done, the set folds up for portable on-the-go convenience. Piece-count includes a Princess bed with canopy, a Popstar bed that turns over to reveal a bathtub, 2 bed quilts and a pillow, a closet with hanger, a vanity with mirror, a tea table and 2 chairs, 2 tea cups and a tea pot, an alarm clock, a lamp, a hair dryer, a brush and a laptop. Dolls not included.
PurchaseParts
ReplacementPartsNotAvailable