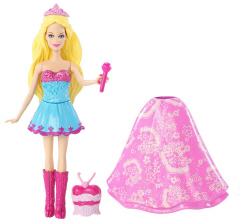 Barbie® Princess And Popstar Tori™ Small Doll
Product#: X3698
Released: 2012
Discontinued:
Ages: 3 years and up.
Barbie™ The Princess & The Popstar Mini-Doll Assortment:
The all new Barbie™ movie, Barbie™ The Princess & the Popstar, has some magical transformative moments that girls can recapture with these mini-dolls. Change the Princess into a Popstar or the Popstar into a Princess! Each doll comes with an extra fashion to effect the change and a microphone to expand play. Ages 3 and older. X3697 Asst.
PurchaseParts
ReplacementPartsNotAvailable