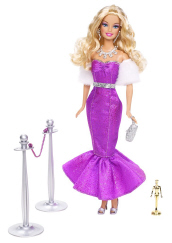 Barbie® I Can Be Movie Star
Product#: X3124
Released: 2012
Discontinued:
Ages: 3 years and up.
Barbie® I Can Be…™ Actress:
Girls can explore the role of a movie star. Barbie® doll as actress is dressed in a red-carpet gown and statement jewelry and comes with a silver clutch purse, "gold" statue trophy and rope and stanchions to hold back her fans. Ages 3 and older. R4426 Assortment.
PurchaseParts
ReplacementPartsNotAvailable