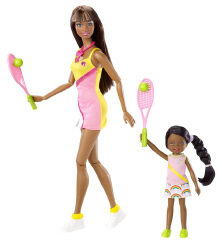 Barbie® So In Style™ (S.I.S.®) Grace® & Courtney® Dolls
Product#: X3012
Released: 2013
Discontinued:
Ages: 3 years and up.
Barbie® So In Style® (S.I.S.®) Mentoring Assortment:
The S.I.S.® girls love being active! In these two-packs, the older sisters are teaching their little sisters fun sports so they can be active. Themes include roller skating and tennis. The sisters are dressed in stylish sporting outfits and come with related accessories, like skates and helmets or tennis rackets and tennis balls. Ages 3 and older. P6913 Assortment.
PurchaseParts
ReplacementPartsNotAvailable