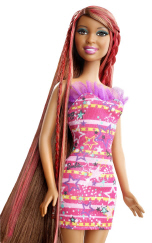 Hairtastic™ Color & Design Salon™ Barbie® Doll
Product#: X2346
Released: 2012
Discontinued:
Ages: 5 years and up.
Barbie® Hair-Tastic!™ Color & Design Salon™ Doll (AA):
Now girls can be real hair artists with the Color & Design Salon™! This item provides girls with a fun, unique and aspirational way to add color to Nikki® doll's hair: spray-on color. While Nikki® doll is seated in the salon chair, girls can drape her super-long hair over the stand to prepare for coloring. Using the stencils, girls can spray color on Nikki® doll's hair to create cool designs, or they can freehand styles of their own. Comes with everything needed to design lots of looks for Nikki®, including doll, hair stand, stencils, 3 bottles of color, comb, hair clips and rubber bands. Ages 5 and older.
PurchaseParts
ReplacementPartsNotAvailable