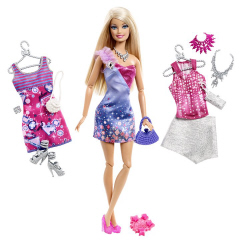 Fashionistas® Barbie® Doll
Product#: X2269
Released: 2013
Discontinued:
Ages: 3 years and up.
Barbie® Fashionistas® Doll Ultimate Wardrobe Assortment:
Barbie® and Teresa® dolls love going out in style! Each doll in this assortment comes with fashions and accessories that allow girls to mix and match, creating the fashion look they think is perfect for a night out with the girls. Barbie® doll is dressed in a glam style, with lots of glitter, sparkle and silvery accents. Teresa® doll is boho chic, with softer colors, lace accents and hip accessories. Dolls cannot stand alone. Each sold separately, subject to availability. Ages 3 and older. X2268 Assortment.
PurchaseParts
ReplacementPartsNotAvailable