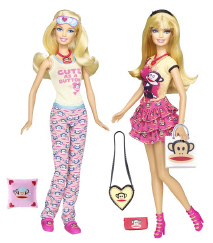 Barbie® Loves Paul Frank Dolls
Product#: W9577
Released: 2013
Discontinued: 2014
Ages: 3 years and up.
Barbie® Loves Paul Frank Doll Assortment:
Barbie® loves Paul Frank-and is all decked out in her Paul Frank attire as only Barbie® doll can be, with lots of pink and girly touches, of course! Whether shopping at the Paul Frank store or having a sleepover in her Paul Frank PJs, Barbie® and Paul Frank make a fabulous team. Includes doll and shopping-themed piece-count. Each sold separately, subject to availability. Ages 3 and older.
PurchaseParts
ReplacementPartsNotAvailable