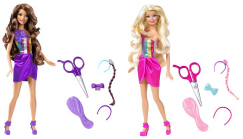 Hairtastic™ Cut & Style™ Barbie® Doll Assortment
Product#: W3909
Released: 2012
Discontinued:
Ages: 5 years and older.
Barbie® Hair-Tastic!™ Cut & Style™ Doll Assortment:
It's always a good hair day with the Barbie® Cut & Style™ Doll Assortment! Girls can use the cute pink "scissors" to "cut" Barbie® doll's hair into a super-sleek, high-fashion bob or reattach the enclosed hair extensions to the doll to create a long style. The assortment features two Barbie® dolls (one blonde and one brunette) in stylish fashions, hair piece-count and hair extensions. So many ways to style! Each sold separately, subject to availability. Ages 5 and older.
PurchaseParts
ReplacementPartsNotAvailable