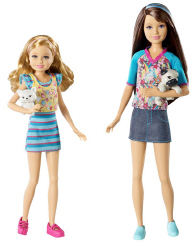 Barbie® Sisters
Product#: W3281
Released: 2011
Discontinued:
Ages: 3 years and up.
Barbie® Sisters Doll Assortment:
This assortment of two is all about those fun family moments sisters get to enjoy with their favorite pets. Stacie® doll has her cute kitty, whom she loves to hang out with, and Skipper® doll is accompanied by her precious pug. Both dolls are dressed in signature style casual outfits and are ready to spend the day with their animal friend. Ages 3 and older.
PurchaseParts
ReplacementPartsNotAvailable