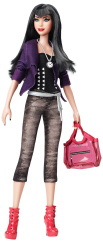 Stardoll® by Barbie® Doll Accessory Packs
Product#: W2209
Released: 2012
Discontinued:
Ages: 6 years and up.
Barbie® Stardoll Accesory Assortment:
With Stardoll by Barbie®, now you can experience all the online fun of Stardoll…in the real world too! Play designer for your Stardoll by mixing and matching her trendy, original fashions and accessories. Use your gift card to be a Superstar online! V2916 Asst.
PurchaseParts
ReplacementPartsNotAvailable