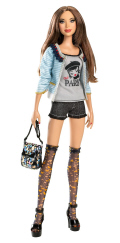 Stardoll® by Barbie®
Product#: W2203
Released: 2012
Discontinued:
Ages: 6 years and up.
Stardoll® by Barbie® Doll 1:
With Stardoll® by Barbie®, now you can experience all the online fun of Stardoll®…in the real world too! Play designer by mixing and matching the trendy, original fashions and accessories. This sassy Stardoll® has on black "denim" shorts, a cool t-shirt, a jacket with sparkle details and funky socks. Platform shoes and a graphic-print purse complete the look. Use the enclosed gift card to get a Superstar membership online and even more fashion opportunities! Gift card is subject to terms and conditions located at stardoll.com. Ages 6 and older. W2206 Asst.
PurchaseParts
ReplacementPartsNotAvailable