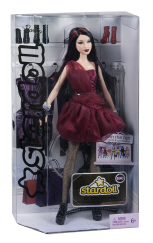 Stardoll® by Barbie® - Doll 3
Product#: W2200
Released: 2012
Discontinued:
Ages: 6 years and up.
Stardoll® by Barbie® Doll 3:
This sassy Stardoll® has on a deep red party dress with a full skirt and draping. Gloves, ankle boots and patterned tights complete the look. Use the enclosed gift card to get a Superstar membership online and even more fashion opportunities!
PurchaseParts
ReplacementPartsNotAvailable