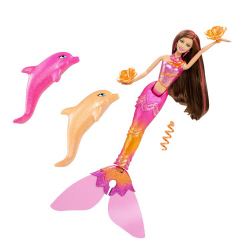 Barbie® Swim & Dance™ Mermaid Doll (WM)
Product#: W2055
Released: 2011
Discontinued: 2011
Ages: 3 years and up.
(Walmart) Barbie® Swim 'N Dance™ Mermaid Assortment:
The Swim 'n Dance™ mermaids love to play in the water. Wind their tails and watch as these gorgeous mermaids swim and spin through the water! Swimming feature is activated by flipping tail up, winding it and flipping it back down—then place in water and watch the mermaid swim! Also includes color-change hair that is cold water activated. Includes doll, flower floaties for her arms and a seashell hair tie. Each sold separately, subject to availability. For ages 3 and over. W3119 Asst.
PurchaseParts
ReplacementPartsNotAvailable