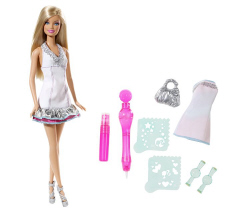 H2O Design Studio™ Barbie® Doll (TRU)
Product#: W1598
Released: 2012
Discontinued:
Ages: 3 years and up.
H2O Design Studio™ Barbie® Doll:
Now girls can customize and transform Barbie® fashions over and over again for tons of fashion fun! Just add water to design tools then spray, stencil, stamp and draw right on Barbie® fashions-the designs "magically" appear! Allow designs to dry and then create new ones all over again. It's easy! Includes Barbie® doll plus extra fashion, water pen tool, spray bottle, 2 double-ended stamp tools and stencils. Doll cannot stand alone. Ages 3 and older.
PurchaseParts
ReplacementPartsNotAvailable