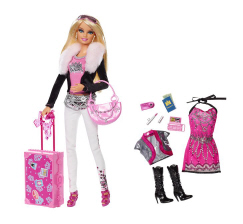 Barbie® Fashionistas® Swappin' Styles® World Tour™ Doll – Glam (Target)
Product#: W1595
Released: 2011
Discontinued:
Ages: 3 years and older.
Barbie® Fashionistas™ Swapping' Styles® World Tour™ Doll - Glam:
The Barbie® Fashionistas™ Jet Set dolls are a very fashionable group of friends who love expressing their fashion personalities with their own signature styles and fashions! Glam is a sophisticated traveler who always looks her best no matter what time her flight is. With two fashions and travel accessories that include luggage, passport, camera and lipstick, Glam is ready for any adventure, anywhere! W3027 Assortment.
PurchaseParts
ReplacementPartsNotAvailable