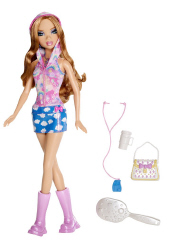 Barbie® My Scene Seasons Chelsea® Doll
Product#: V9205
Released: 2011
Discontinued: 2012
Ages: 6 years and up.
My Scene™ My Seasons Assortment:
My Scene™ girls are always dressed in trendy outfits for every season! Each doll also comes with fun accessories to play in different types of weather! Kennedy® has a cute furry skirt with winter white snow boots; Chelsea® comes with cool sunglasses and an ice cream to keep her cool in the sun; and Nia® comes with a MP3 player and a warm drink for snuggling up on rainy days. Each sold separately, subject to availability. Ages 6 and over. V9203 Asst.
PurchaseParts
ReplacementPartsNotAvailable