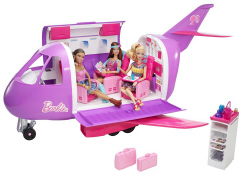 Barbie® Glam Vacation Jet and Dolls
Product#: V8947
Released: 2011
Discontinued:
Ages: 3 years and up.
Barbie® Glam Vacation Jet and Dolls:
Let the adventures begin with a girl's very own private plane. There's room for jet-setters Barbie® doll, Ken® doll or friends in the luxurious cabin with first-class seats that fold back for lounging, play food, entertainment and more! Both sides of the jet fold open - with a ramp for boarding and arrival and space for stowing luggage. Dolls not included.
PurchaseParts
ReplacementPartsNotAvailable