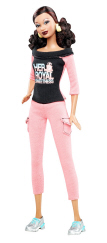 Barbie® So In Style Pastry (Trichelle)
Product#: V7102
Released: 2011
Discontinued:
Ages: 3 years and up.
So In Style™ (S.I.S.™) Pastry Doll Assortment:
Grace™ and her friends are So in Style™ with their signature Pastry fashions featuring super fun style! These detailed, authentic Pastry fashion dolls are true to the S.I.S.™ philosophy with each doll wearing a fun, bright Pastry signature style look that best suits her personality. Each doll is wearing Pastry active wear and is "workin' it out" in these stylish fashions. Trichelle™ doll is dressed in a signature yoga workout suit with her Glam Pie high-top sneakers. Fashion accessories vary per doll. Each sold separately, subject to availability. Dolls cannot stand alone. For ages 3 and over. T7337 Asst.
PurchaseParts
ReplacementPartsNotAvailable