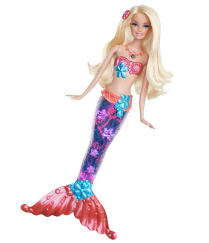 Barbie® Sparkle Lights™ Mermaid Doll
Product#: V7047
Released: 2011
Discontinued:
Ages: 3 years and up.
Barbie® Sparkle Lights Mermaid Doll Assortment:
The Barbie® Sparkle Lights Mermaids have beautiful tails that light up! Girls will love the many different light patterns that will make bath play extra fun! Light up feature is activated by pushing the necklace and the tail lights up. For ages 3 and over. V7046 Assorment.
PurchaseParts
ReplacementPartsNotAvailable