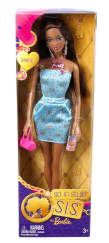 Barbie® So In Style™ (S.I.S.™) Grace™ Doll
Product#: V5178
Released: 2011
Discontinued:
Ages: 3 years and up.
S.I.S.™ So In Style™ Doll Assortment:
So In Style™ dolls show off their flair for fashion and friendship as Grace™ meets with her friends Kara™ and Trichelle™ at a concert. Grace™ doll includes necklace, purse, shoes, earrings, bracelet, VIP pass. Each sold separately, subject to availability. Dolls cannot stand alone. For ages 3 and over. V5177 Asst.
PurchaseParts
ReplacementPartsNotAvailable