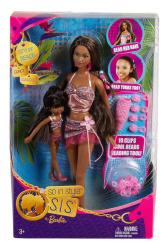 Barbie® So In Style™ (S.I.S.™) Stylin' Beads™ Grace™ & Courtney® Dolls
Product#: T7334
Released: 2011
Discontinued:
Ages: 3 years and up.
Barbie® So In Style™ (S.I.S.™) Locks of Looks Fashion Doll Assortment:
So in Style ™ Locks of Looks fashion dolls combine the fun of being a teenager with the excitement of mentoring a younger child. Grace™, Trichelle™ and Kara™ take their lil' sis to the hair show, but the models are nowhere to be found. Luckily, the So in Style ™ girls step in as models to save the show! Girls can style Grace™ and Courtney® doll's hair ; Trichelle™ and Janessa™ doll's hair; and Kara™ and Kianna® doll's hair for the local hair show with all of the fun falls and beauty products. Just clip on each hair fall piece and get them ready for the runway! Includes 3 hair falls, plastic "hair" bow, a hairbrush, scissors, and 3 licensed beauty products. Each sold separately, subject to availability. For ages 3 and over. P6913 Asst.
PurchaseParts
ReplacementPartsNotAvailable