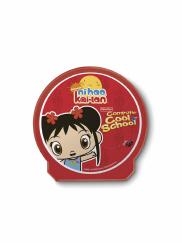 Fun 2 Learn™ Computer Cool School™ Software Nihao, Kai-lan
Product#: P8885
Released: 2009
Discontinued: 2011
Ages: 3-5 years
Reading & Writing Kai-lan and her friends are getting ready for a backyard party! Read all about it-you can even keep the story moving. Help decorate, prepare food, and add stickers while you learn to read and write! Math Help Rintoo build his toy car-follow the instructions to put everything in numerical order. Art Create your own artwork with a Kai-lan theme. Draw, paint, stamp, and more as you learn about colors, lines and patterns. Print or display your masterpieces! Music All of Kai-lan's friends will play an instrument during the music show at the party. Join in and create songs and silly sounds of your own! Science Learn about the sun (it's really a star!) as well as plants, animals, and lots of other nature and science facts. Try out your observation skills with a game of "I see." 40+ activities to print for on-the-go learning. Take a field trip and join the party!
SystemRequirements
PC Requirements
Microsoft

®

Windows Vista™ or Windows XP

Processor- 1.2GHz

Memory- 256MB Ram
Hard Drive- 200Mb available
Video Resolution-

800x600 32-bit color DirectX9.0c compatible

Sound- 16-bit DirectX compatible

CD or DVD Drive

USB port- 1.1

Recommended- Printer, Internet Connection for updates
Mac Requirements
This product is not Mac compatible.
PurchaseParts
ReplacementPartsNotAvailable