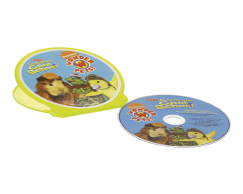 Fun 2 Learn™ Computer Cool School™ Software Wonder Pets
Product#: P8884
Released: 2009
Discontinued: 2011
Ages: 3-5 years
Reading & Writing Linny, Tuck and Ming-Ming welcome you! Join them to read "The Wonder Pets Save the River Otter" and learn some writing skills, too! You can use stickers to help the Wonder Pets dress in their superhero costumes. Math The Wonder Pets are on the way to rescue the river otter. Collect numbered bubbles and help guide the Flyboat around obstacles. You can keep improving your math skills with three levels of play. Art Create your own artwork with a Wonder Pets theme. Draw, paint, stamp, and more as you learn about colors, creativity, and cause and effect. Print or display your masterpieces! Music The forest habitat is full of music-help the Wonder Pets explore and create even more! Science Can you guess which animal Linny is thinking about? Don't worry, Linny will give you clues to help you figure it out!40+ activities to print for on-the-go learning. Take a field trip and join the party!
SystemRequirements
PC Requirements
Microsoft

®

Windows Vista™ or Windows XP

Processor- 1.2GHz

Memory- 256MB Ram
Hard Drive- 200Mb available
Video Resolution-

800x600 32-bit color DirectX9.0c compatible

Sound- 16-bit DirectX compatible

CD or DVD Drive

USB port- 1.1

Recommended- Printer, Internet Connection for updates
Mac Requirements
This product is not Mac compatible.
PurchaseParts
ReplacementPartsNotAvailable