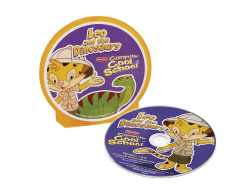 Computer Cool School™ Software Leo's Dinosaur Adventure
Product#: P5453
Released: 2009
Discontinued: 2011
Ages: 4-6 years.
Leo welcomes the Player to the classroom and invites them to explore the environment. Leo will be the Player's Learning Buddy and will be a peer for the Player as they visit the centers and play the activities. In addition, because Leo is crazy for dinosaurs, he has lots of specialized knowledge that he'll enthusiastically share with the Player throughout the title. After the introduction, Leo will step off-screen, allowing the Player to explore and click around, but he's never far away. He will pop back in often to introduce the Centers/Activities. Leo is the only speaking character in the title. The classroom is the software home screen. The classroom will have decorative items that evoke an old Oxford University style… Old books, antiquities, totem objects, bones, fossils, rocks, bell jar, old trunk, maps, specimens… clearly representing a paleontologist's classroom with many dinosaur references.
SystemRequirements
PC Requirements
Microsoft

®

Windows Vista™ or Windows XP

Processor- 1.2GHz

Memory- 256MB Ram
Hard Drive- 200Mb available
Video Resolution-

800x600 32-bit color DirectX9.0c compatible

Sound- 16-bit DirectX compatible

CD or DVD Drive

USB port- 1.1

Recommended- Printer, Internet Connection for updates
Mac Requirements
This product is not Mac compatible.
PurchaseParts
ReplacementPartsNotAvailable