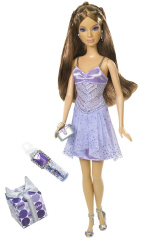 Barbie® Birthday Doll
Product#: M0944
Released: 2008
Discontinued:
Ages: 5 and up
LipSmacker® Barbie® Doll Assortment
Three wishes for the birthday girl!
Barbie® and Teresa® dolls celebrate the fun in modern party dresses with a sweet LipSmacker® flavor lip gloss, a surprise "gemstone" birthday ring, and gift box with a bow for the birthday girl.
Ages 5 and over.
PurchaseParts
ReplacementPartsNotAvailable