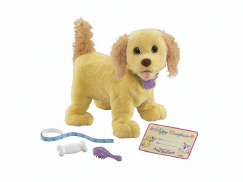 Knows Your Name™ Puppy
Puppy Grows & Knows Your Name is an electronic mechanized plush dog. Puppy is at his smallest size when the child brings him home and over one week puppy will grow to full size. The child can personalize puppy and as puppy grows he will learn to speak, learn his own name, the child's name and more. Puppy is personalized using the software on the included CD-ROM. Areas of personalization are: child's name, dog's name. Included accessories: bone, brush and puppy toy. Puppy comes in two different breeds/color combinations.
USB cables are not included.