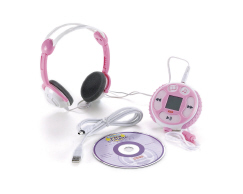 Kid-Tough™ FP3 Player
Product#: K3420
Released: 2006
Discontinued: 2007
Ages: 3+
The Kid-Tough FP3 Player is the first digital media player that provides preschoolers with a durable and easy way to play their favorite downloadable songs & stories and provides moms with a safe way to refresh the content. The player includes software and a USB cable to player, whether it be from a purchased CD or from the safe, user-friendly Fisher-Price Online Content Store. The online content store will be the first of its kind to specifically offer safe, child-appropriate content and suggestions for moms. The durability, easy navigation and downloadable song and story content set the Kid-Tough FP3 Player apart from any other digital media player.With simple controls and drop-tested durability, the player endures rough preschooler use. Features include a 1.5" LCD screen which displays the song and story titles as well as an icon to help preschoolers find their favorite content, over 30 minutes of preloaded song and story content, 128MB of memory, an SD card slot for expandable memory, kid-friendly headphones and a breakaway neck strap for portability.
SystemRequirements
PC Requirements
Microsoft Windows® XP or Windows® 2000

Windows® Vista

™

and

Windows® 7

32 bit support was added to the product. Please see the Software Download section.

Processor- 500 MHz Pentium III

Memory- 256 MB (512 MB suggested)

Hard Drive- 150 MB of disk space for installation

Video Resolution- 1024 X 768

USB Port

Microsoft® Internet Explorer 6.0 with SP1

Macromedia Flash Plug in
This product is not 64 bit compatible.
Mac Requirements
This product is not Mac compatible.
PurchaseParts
ReplacementPartsNotAvailable