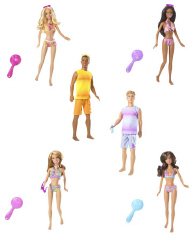 Beach Fun™ Doll Assortment
Product#: J6937
Released: 2006
Discontinued:
Ages: 3 years and up.
It's the ultimate beach party.
The dolls look totally cool in the latest beach fashions hanging out with friends at the bonfire and splashing in the waves at sunset. Each doll comes with a cool pair of sunglasses and "suntan lotion".
Dolls cannot stand alone.
Colors and decorations may vary.
PurchaseParts
ReplacementPartsNotAvailable