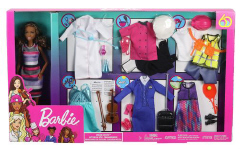 Barbie® Dream Careers Doll and Fashions
Product#: GWM98
Released: 2020
Discontinued:
Ages: 3 Years and up
Barbie® doll has had so many careers, and the Dream Careers™ set lets kids explore several of them with her! There are clothing and accessories for each profession to let kids role-play their career dreams with Barbie®. Cook up fun as a chef, build future dreams as a builder, hit all the right notes as a musician, soar to new heights as a pilot, score playtime points as a tennis player and discover the world as a scientist with a lab coat and beakers or care for patients as a doctor in the same coat with the stethoscope. The fun pieces inspire imagination and storytelling. Kids will have so much fun trying on all these different careers because when a girl plays with Barbie®, she imagines everything she can become! Dolls cannot stand alone. Colors and decorations may vary.

Features:

Six career outfits for Barbie® doll in one pack -- a chef, builder, musician, pilot, tennis player and scientist, plus extra pieces for a doctor look, plus Barbie® doll -- let kids explore a world of opportunity!

Each professionally themed outfit includes 1 or 2 fashions and accessories to encourage kids to role-play their career dreams!

The doll clothing incorporates realistic details with Barbie® signature style, like a pink chef coat-inspired top with button details, pink stitching on the white doctor or lab coat and insignia on the pilot's uniform.

The accessories inspire storytelling and role-play, like a violin, bow and sheet music for the musician; a utility belt and pink hard hat (with mirror detail) for the builder; and a tennis racquet and ball for the tennis player.

Kids will love exploring so many dreams with this careers doll set because when a girl plays with Barbie®, she imagines everything she can become -- makes a great gift for kids 3 years and older!
PurchaseParts
ReplacementPartsNotAvailable