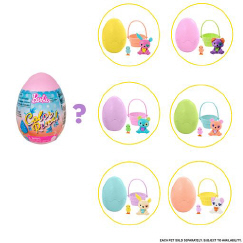 Barbie® Color Reveal™ Pet
Product#: GVK58
Released: 2021
Discontinued:
Ages: 3 years and up
Barbie® Color Reveal™ pets deliver an unboxing experience full of surprises -- five of them! The pets come in an Easter egg, with each pet's look a mystery until revealed. Inside the pastel-colored egg are four mystery bags that hide a Color Reveal™ pet figure and three surprise items! Dip the mystery pet covered in Color Reveal™ metallic purple into water. The water turns purple, and when the pet is pulled out, its features are revealed! Each colorful pet is decorated with a bowtie, but the surprises continue…open the rest of the bags to discover a baby chick, a basket and pet ears -- there are more than 20 different combinations of a pet and cute baby animal ears! Color-change effects on the pet's face add to the surprise and fun! Which will you reveal? Kids can collect them to mix and match accessories and expand the possibilities. Each sold separately, subject to availability. Colors and decorations may vary.

With 5 surprises in 1 package, the Barbie® Color Reveal™ pets deliver all kinds of delight!

Each colorful pet set comes in an Easter egg container that's easy to open and close -- what's inside? Start the experience by opening the egg to find 4 bags with hidden contents.

After opening each bag, kids will discover a Color Reveal™ pet covered in metallic purple, a baby chick, a basket and a set of pet ears!

To reveal, dip the pet into warm water and swirl it around. The water changes to a purple color with a magical effect. Pull the pet out to see which it is -- each has a unique look!

Use ice-cold water for a color-change transformation that can be repeated over and over again -- reveal the pet's surprise face decoration!

Use the pastel egg case to display and hold the pet and baby chick!

Kids 3 to 7 years old will love playing out pet care and stories with the adorable surprise Color Reveal™ pets!

They can collect them to mix and match accessories and expand the playtime opportunities -- young animal lovers will want to adopt them all!


PurchaseParts
ReplacementPartsNotAvailable