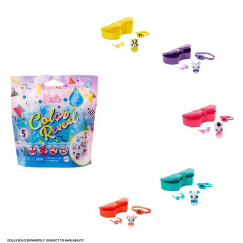 Barbie® Color Reveal™ Pet
Product#: GTM94
Released: 2021
Discontinued:
Ages: 3 years and up
Barbie® Color Reveal™ pets deliver an unboxing experience full of surprises -- five of them! The mini case, shaped like sunglasses, holds three mystery bags hiding a Color Reveal™ pet figure and three surprise items! Dip the mystery pet covered in Color Reveal™ teal into water. The water turns a teal color, and when the pet is pulled out, its features are revealed! Find a dalmatian puppy, baby tiger, panda bear, skunk or a zebra once revealed, but the surprises continue…open the rest of the surprise bags to discover a fanny-pack and sunglasses for Barbie® and a cute little bow accessory for the pet.
Each pet has a color design that matches the accessories and the case for a fun, monochromatic look. Use the pieces to play out stories or display the pet inside the sunglasses. Which will you reveal? Kids can collect them to mix and match accessories and expand the possibilities!
Each sold separately, subject to availability. Colors and decorations may vary.
PurchaseParts
ReplacementPartsNotAvailable