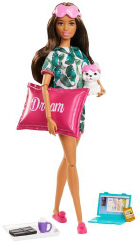 Barbie® Wellness Dream Doll
Product#: GJG58
Released: 2020
Discontinued:
Ages: 3 years & up
Barbie® doll knows the way to be one's best is to give yourself the best care! This relaxation-themed doll and accessory set celebrates one of her favorite ways to recharge -- it includes a doll, a puppy and themed toys that let kids play out a classic moment of self-care. Barbie® doll wears loungewear and has lots of storytelling pieces to encourage exploration and play. Some accessories have a handle Barbie® doll can hold for easy role-play fun, and others, like the smaller eye mask, fit her puppy so they can relax together. Kids will love expanding their worlds with the Barbie® wellness dolls. Kids can collect them all to expand the possibilities even more because when a girl plays with Barbie®, she imagines everything she can become (each sold separately, subject to availability).

Kids can practice self-care as they help Barbie® doll recharge with this relaxation-themed set that includes a doll, a puppy and 8 accessories themed to a favorite experience!

Barbie® doll can relax before bedtime with a tray and cup of cocoa, her journal, cell phone and laptop!

Her puppy can find sweet dreams, too, with a dream pillow to share and a sleep mask for each!

Some pieces have a handle for easy action storytelling and role-play fun.

Barbie® doll wears dreamy loungewear with a tropical leaf print and pink slippers.

She also features 11 "joints" for more realistic movement -- at the neck, shoulders, elbows, wrists, hips and knees.

Kids will love playing out stories with Barbie® gym workout doll and discovering how to be good to themselves, too, because when a girl plays with Barbie®, she imagines everything she can become!

You can collect other Barbie® wellness dolls to expand the possibilities and let kids 3 to 7 years old explore the world through play!
PurchaseParts
ReplacementPartsNotAvailable