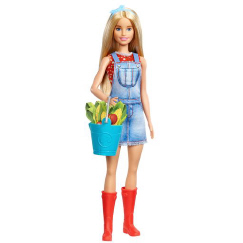 Barbie® Sweet Orchard Farm Doll
Product#: GJB60
Released: 2020
Discontinued:
Ages: 3 Years and up
On Barbie® Sweet Orchard Farm™, everyone is welcome to lend a helping hand -- it makes the work easier and the stories more fun! Kids can imagine a day on the farm with Sweet Orchard Farm™ Barbie® doll. She is ready to work all day wearing an overall-style jumper with a floral top, blue headband and red boots. Barbie® doll carries a bundle of corn and apples in her blue bucket with flexible handle. Kids can collect all the Barbie® farm dolls and toys to add more helping hands and grow fun on the farm! Includes 11.5-in (29.21-cm) Barbie® doll wearing fashion and accessories, corn/apple piece and 1 bucket. Doll cannot stand alone. Colors and decorations may vary.

Features:

There's always something to do on Sweet Orchard Farm™, like picking corn and apples with Barbie® doll!

Barbie® farmer doll is ready to bring in the harvest in a jumper inspired by denim overalls with a red floral top.

A blue headband with bow and tall red boots add to Barbie® doll's farmhouse style.

Help her harvest corn and apples with the blue bucket.

Kids can collect the Barbie® farm dolls and toys and find fun is an easy thing to grow on the farm -- makes a great gift for kids 3 to 7 years old!
PurchaseParts
ReplacementPartsNotAvailable