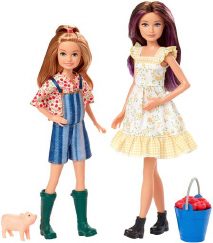 Barbie® Sweet Orchard Farm™ Dolls
Product#: GHT16
Released: 2020
Discontinued:
Ages: 3 years and up
On Barbie® Sweet Orchard Farm™, everyone is welcome to lend a helping hand -- it makes the work easier and the stories more fun! Kids can imagine a day on the farm with sisters Skipper™ doll and Stacie™ doll, helping care for the animals. They have a piglet and a bucket of apples to play out feeding -- a handle for carrying encourages role-play and storytelling. Animal lovers will find fun is an easy thing to grow on the farm! Skipper™ and Stacie™ dolls are ready to work all day wearing casual looks with signature touches and cool boots. Kids can collect all the Barbie® farm dolls and toys for even more helping hands to harvest playtime fun because when a girl plays with Barbie®, she imagines everything she can become! Includes 9-in (22.86-cm) Skipper™ doll and 8-in (20.32-cm) Stacie™ doll wearing fashion and accessories, 1 small pig and 1 bucket with apples. Dolls cannot stand alone. Colors and decorations may vary.

There's always something to do on Sweet Orchard Farm™, like caring for the pigs -- kids can help Skipper™ and Stacie™ dolls feed their pig with this 2-doll set.

The two younger sisters of Barbie® have a sweet piglet to care for -- it's ready to be fed and loved!

A bucket of apples has a handle that can swing over one of each doll's arms to help engage imaginations in storytelling and role-play!

Each doll wears her own twist on farm fashion: Skipper™ doll has on a floral and gingham checked dress with black boots; Stacie™ doll looks fresh in a colorful top, denim striped overalls and green boots.

Kids can collect all the Barbie® farm dolls and toys to grow playtime fun -- makes a great gift for kids 3 to 7 years old, especially animal lovers!
PurchaseParts
ReplacementPartsNotAvailable