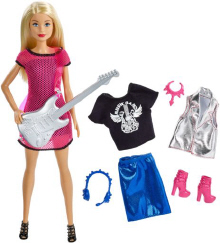 Barbie® Musician Doll
Product#: GDJ34
Released: 2019
Discontinued:
Ages: 3 years and up
Barbie® musician doll is reaching for the top of the charts -- this music career-themed set helps young music lovers play out their top hits, too! Barbie® doll is ready to hit the right notes with a silvery guitar and pink strap. She can take center stage in her pink and black mesh dress and has a second outfit, a second pair of shoes and a necklace for a quick costume change. Recording headphones fall in perfect harmony with this rockin' Barbie® doll and career fashion pack. Explore all the Barbie® career dolls and toys to open the door to endless possibilities because when a girl plays with Barbie®, she imagines everything she can become (each sold separately, subject to availability). Includes Barbie® doll wearing fashion and shoes; a second outfit with graphic tee, silvery vest and blue skirt; a second pair of shoes; a necklace; a microphone headset; and a guitar with strap. Doll cannot stand alone. Colors and decorations may vary.

Barbie® musician doll is ready to rocket to the top of the charts with a rock star career set that includes extra fashions, accessories and music-themed toys.

She has a silvery guitar with pink strap that will help her hit all the right notes!

Kids can play out rehearsal or performance with Barbie® doll wearing a black dress with pink mesh overlay and black shoes.

Rockin' clothing and accessory options include a black t-shirt with music-inspired graphic, blue shimmery skirt, silvery collared vest, pink necklace and pink boots.

Use her blue microphone headphones to play out a chart-topper!
PurchaseParts
ReplacementPartsNotAvailable