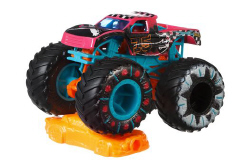 HOT WHEELS® MONSTER TRUCKS 1:64 PODIUM CRASHER™ Vehicle
Product#: GBT46
Released: 2019
Discontinued:
Ages: 3 Years and up
The Hot Wheels® Monster Trucks 1:64 scale die-cast trucks are the baddest trucks ever built for competition and ultimate dominance! They square off in head-to-head battles with their GIANT wheels! Every truck includes a collectible wheel and the package provides stats for each including name, truck type, strength, unique crash attack and motor-vation for great storytelling fun!

Each sold separately, subject to availability. Colors and decorations may vary.

Features:

Collection of different 1:64 Scale Die-Cast Hot Wheels® Monster Trucks (each sold separately)!

Giant wheels and rad details— kids will want to collect them all! Every Monster Truck in the collection includes an exclusive add-on for even more thrills.

Each monstrous machine is packed out with awesome stats on back giving details of their strength, crash attack, motor-vation and more!?? Built to smash and crash everything in sight, crushing any car in the way!

Nothing can stop the baddest vehicles ever built for head-to-head competition!
PurchaseParts
ReplacementPartsNotAvailable