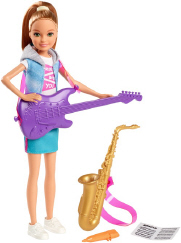 Barbie® Team Stacie™ Doll & Accessories
Product#: GBK56
Released: 2019
Discontinued:
Ages: 3 years and up
Stacie™ doll and her friends are go-getters, just like her big sister Barbie® -- and together they make a super-strong team! With Team Stacie™, kids are inspired to explore their interests. This doll and accessory set hits the right notes for music lovers with four accessories to play out all kinds of musical styles. A guitar and saxophone each have a strap, a microphone has a handle the doll can hold and sheet music sets the tone for fun during playtime! Kids will love role-playing rehearsals, recordings and performances and helping Team Stacie™ steal the spotlight -- go Team Stacie™! Collect all the Team Stacie™ dolls and toys for even more possibilities to explore the world during playtime (each sold separately, subject to availability). Includes Stacie™ doll wearing fashion and accessories, guitar with strap, saxophone with strap, microphone and sheet music. Doll cannot stand alone. Colors and decorations may vary.

Just like big sister Barbie®, Stacie™ doll has a diverse group of friends who support each other in their goals -- Team Stacie™ are the best of friends!

Stacie™ doll is a young musician who strives to hit all the right notes -- she comes with four music-themed accessories to let young music lovers role-play practice and performance!

A purple guitar and a golden saxophone each have a pink strap, perfect for playing out solos!

An orange microphone has a handle Stacie™ doll can hold, and sheet music lists notes so real, you'll be inspired to sing them out!

Stacie™ doll wears a sporty look she can wear in studio or on stage -- a white t-shirt has a pink graphic with message, teal skirt with pink stripe, faded denim vest hoodie and white shoes.

Kids will love joining Team Stacie™ and exploring the world because when a girl plays with Barbie®, she imagines everything she can become -- collect all the Team Stacie™ dolls and toys for even more playtime possibilities!
PurchaseParts
ReplacementPartsNotAvailable