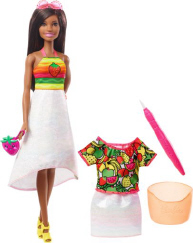 Barbie® Crayola® Rainbow Fruit Surprise Doll & Fashions
Product#: GBK19
Released: 2019
Discontinued:
Ages: 5 years and up
With BARBIE® CRAYOLA® Rainbow Fruit Surprise Doll and Fashion design sets, young designers can create unique looks for Barbie® doll! Barbie® doll has a delightful strawberry smell and accessories that include a pair of shoes and a scented strawberry-shaped purse with an adorable face. Two outfits each have a colorful fruit-pattern on top and a color-changing skirt that kids can design with bold colors. It's so easy! Just dip the Crayola® paintbrush tool in the water bucket and "paint" the skirt to reveal a colorful fruit pattern -- so cool. Paint a little or a lot, you're the designer! When the skirt dries, it returns to its original sparkly state so kids can create a new look. Young designers will love repeating the design magic over and over for all-day play! Includes scented Barbie® doll wearing fashion with color-changing skirt and a pair of shoes, one top, one color-changing skirt, one strawberry-scented purse, water bucket and Crayola® paintbrush tool. Doll cannot stand alone. Colors and decorations may vary.

Barbie® and Crayola® encourage kids to express their creativity and themselves with fashion design toys, like the Barbie® Crayola® Rainbow Fruit Surprise Scented Doll and Fashions.

This Barbie® playset includes 2 outfits that each consist of a colorful top and a color-changing skirt that kids can design with a brushstroke!

Young designers just dip the Crayola® paintbrush tool in water and "paint" the skirt to reveal rainbow colors and fruit designs.

As it dries, the skirt changes back to sparkly white so kids can paint all over again -- so many possibilities for a new look!

Accessories add more than just a finishing touch -- the strawberry-shaped purse is also strawberry-scented!

Barbie® doll's head is scented, too, so she always smells delightful!

Encourage young designers to start their design training and explore personal expression with this delightful Barbie® gift!
PurchaseParts
ReplacementPartsNotAvailable