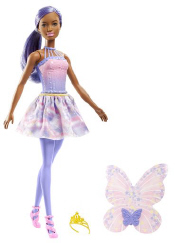 Barbie™ Dreamtopia Fairy Doll
Product#: FXT02
Released: 2019
Discontinued:
Ages: 3 years & up
The Barbie™ Dreamtopia fairy dolls let imaginations take flight -- play out dreams and fairytales with dazzling wings that inspire storytelling. Each Barbie® doll wears a colorful bodice and shimmery skirt with fantasy decorations themed to candy, gems or rainbows. A matching tiara and pair of shoes complete the looks. It's easy to play out dreams real and imagined with this fairy Barbie® doll because when you enter Dreamtopia with sisters Barbie® and Chelsea™, you wake up to a world where dreams become reality! Collect all the Barbie™ Dreamtopia dolls and toys and let your dreams set sail. Includes Barbie™ Dreamtopia fairy doll wearing fashion and accessories. Each sold separately, subject to availability. Dolls cannot stand alone. Colors and decorations may vary.

Features:

Play in a magical land with Barbie® fairy dolls from Barbie™ Dreamtopia!

Barbie® doll is ready to fly into adventure with a dazzling pair of star-decorated wings.

A jewel-themed outfit sparkles with glittery touches on her pink and purple bodice and a shimmery print on her skirt.

Pink shoes are so fun, and a yellow tiara is a "gem" with her long purple side ponytail!

Collect all the Barbie™ Dreamtopia dolls and toys to recreate favorite scenes or tell your own fairytales and sail away with Chelsea™ and her big sister Barbie® to magical lands where adventure never stops and imagination soars.
PurchaseParts
ReplacementPartsNotAvailable